Location/Maps
The Tom Green Condominiums are located in the heart of Austin. From IH35 take the 32nd Street exit. Proceed west on 32nd to Duval, turn right on Duval, turn left on 32nd Street (continuation of 32nd). Proceed two blocks west, left on Walling then left on Tom Green Street.
Street Address: 3115 Tom Green St. Austin, TX. 78705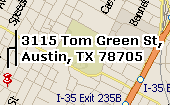 Things to do around TG
Tom Green is so centrally located, that you can easily walk to UT campus and to many other convenient stores/restaurants.
Here are a few things within walking distance of the property:

Tweedys Bar
Posse East
Clown Dog Bike Shop
Crown and Anchor
Spider House Ballroom